Scary Statistics
Virtually all of us would love to take our dogs when we travel on a plane.  However, the thought of putting our furry friends in the cargo hold of a plane is just too much for most. Just picture how dark, loud, and scary it is down there. Imagine the smell of jet fuel seeping into that area where our dogs are. Envision being a dog during take off and landing and having no idea why all of the sudden you are being shoved from one side of the crate to the other.  For some pampered pooches, just being in a crate would be a scary experience.  We have images of their little eyes peering out of the slits in their crate as they are being carted away from us by an airline worker, to be tossed onto a conveyor belt and then put into the belly of an airplane along with all the other cargo.  What must be going through each pup's mind?
We hope that the extra $20 or $50 we slipped the baggage handler to take good care of our furry baby will ensure that he comes out alive and in one piece on the other side. We've all heard the story about the show dogs that have been lost in transit .  There are many other stories like the " Dog Left to Roast in Plane's Cargo Hold " or "Three Dogs Die During Air Travel in August" (2007) or "Airlines May Face Puppy Inquiry" where 3 golden retriever puppies died in transit .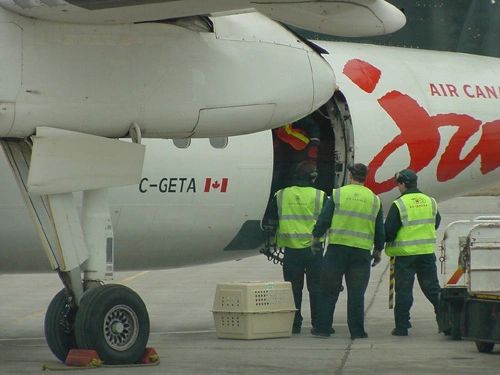 Just one dog dying is too much, especially if it was your own canine companion.  Dog lovers like us believe that our pups are a part of our family. We wouldn't put our human children in danger, so why would we put our furry family members in danger?
The Department of Transportation (DOT) puts out the Monthly Animal Incident Report , which can be a little difficult to navigate through as the Animal Incident Report is buried at the end of each monthly report, however, the Thirdamendement.com website does a very nice job of laying out the statistics each month in an easy to read format.  

2007  (January - November 2007)
| | | | |
| --- | --- | --- | --- |
| Carrier | Death | Injury | Loss |
| Alaska Airline | 7 | 5 | 1 |
| American Airlines | 3 | 1 | 0 |
| Comair | 0 | 0 | 1 |
| Continental Airlines | 12 | 0 | 3 |
| Delta Air Lines  | 4 | 0 | 6 |
| Hawaiian Airlines | 1 | 1 | 0 |
| Midwest Airlines | 1 | 0 | 0 |
| Northwest Airlines | 0 | 2 | 0 |
| SkyWest Airlines | 0 | 1 | 0 |
| United Airlines | 2 | 0 | 1 |
| Total | 30 | 10 | 12 |
2006 (January 2006 - December 2006)
| | | | |
| --- | --- | --- | --- |
| Carrier | Death | Injury | Loss |
| Alaska Airlines | 2 | 2 | 0 |
| American Airlines | 4 | 0 | 0 |
| ATA Airlines | 0 | 0 | 2 |
| Atlantic Southeast | 1 | 0 | 0 |
| Continental Airlines | 9 | 6 | 0 |
| Delta Air Lines | 2 | 0 | 3 |
| Frontier Airlines | 0 | 1 | 0 |
| Hawaiian Airlines | 1 | 0 | 1 |
| Midwest Airlines | 1 | 1 | 0 |
| Northwest Airlines | 0 | 0 | 3 |
| Pinacle Airlines | 0 | 2 | 0 |
| Shuttle America | 1 | 0 | 1 |
| United Airlines | 4 | 0 | 2 |
| US Airways | 0 | 0 | 0 |
| Total | 25 | 12 | 12 |
2005 (May 2005 - December 2005)
| | | | |
| --- | --- | --- | --- |
| Carrier | Death | Injury | Loss |
| Alaska Airlines | 1 | 3 | 0 |
| American Airlines | 5 | 0 | 0 |
| Comair | 0 | 1 | 0 |
| Continental Airlines | 7 | 5 | 1 |
| Delta Air Lines | 1 | 0 | 1 |
| Frontier Airlines | 0 | 1 | 0 |
| Hawaiian Airlines | 0 | 3 | 0 |
| Horizon Airlines | 2 | 1 | 0 |
| Midwest Airlines | 1 | 0 | 0 |
| Northwest Airlines | 0 | 2 | 1 |
| SkyWest Airlines | 1 | 0 | 0 |
| United Airlines | 3 | 0 | 0 |
| US Airways | 1 | 1 | 1 |
| Total | 22 | 17 | 4 |